Perfect Packing Tape
Among the different types of Self-Adhesive Tapes that we are supplying to our customers in the form of Jumbo Rolls, Log Rolls and Finished Rolls includes such OPP Packing Tape, Masking Tape, Double Side Tape, Cloth Tape, Stationery Tape and others which we are importing from Taiwan, Malaysia and China. BOPP Packing Tapes are made with BOPP film and coated with emulsion based acrylic adhesive. We are importer of BOPP Packing Tape Jumbo Rolls in Pakistan. Provide a complete line of quality adhesive tapes products that are competitively priced for shipment and readily available.
We deal in Packing tapes, Clear tape, Masking tape, Jumbo roll, brown tape, Stationary tape, Sealing Tape, Adhesive Tapes & Sealing Tapes and We are a Packing Tape Manufacturer in Pakistan. Super strong packaging tape is perfect for use in the home, office or factory. It won't leave any sticky residue behind so you can use it again and again. Our quality adhesive sealants offer excellent adhesion to paper, plastic, and more without damaging your surfaces. Super adhesive Packing tape is a self-adhesive paper, which is made from PET. Pet is more durable and stronger than PE film. So Super adhesive can be used double-sided to fix the objects firmly. It can be cut into different sizes, easy to use and stick. Wholesale adhesion tapes and PP strap in all sizes and colors. Make the most of your packaging by using the right adhesive tape.
BOPP Packing Tape Clear & Brown (Water Base)
BOPP Packing Tape Clear & Brown (Solvent Base)
BOPP Golden Shade Tape
BOPP Lemon Shade Tape
BOPP Super Yellowish Tape
BOPP Super Clear Tape
Stationary Tape
Masking Tape
Double Side Tape
Cloth Tape
Colorful Tape
Printed Packing Tape

---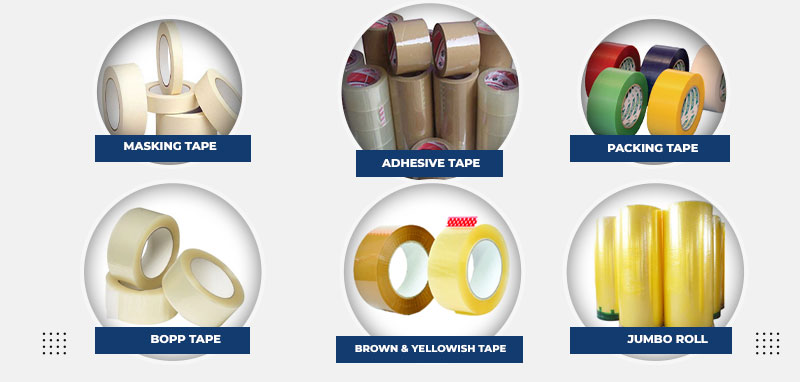 All of the above
tapes
are available at good quality and competitive price in the different brands.
NOTE: Width & Length can be produced as per customer's requirement in different microns.